How Soon After LASIK can I Swim?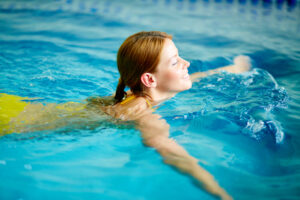 How Long After LASIK can I Swim?
So you've just had LASIK eye surgery and you're feeling pretty good. What's better than waking up and being able to see without fumbling for glasses or placing irritating contacts in your eyes? We imagine the last thing you want to do is sit at home when you could go out and showcase what your eyes are capable of. So, what's one of the first things you can think of? Swimming! only will you be able to swim in the water without having the fear of losing your glasses or your contacts flushing out, but you might be wondering if it's okay to go swimming after LASIK.
Water restrictions after LASIK
Before you take the plunge into cannonballing into the water, here are a few reminders to keep in mind. You'll need to have a restful 24 hours after your surgery before doing anything extraneous, then a full 7 days of restrictions. Within this week of restrictions, you'll need to be careful about getting water in your eyes. It's important to avoid rubbing your eyes or getting soap, shampoo, facial cleaners, and/or lotion in them. Essentially, take this week easy when it comes to physical activity. This will give your eyes time to heal and adjust to the new corrected vision. Next thing, you'll need to be careful about sun exposure. Be sure to wear sunglasses when you're swimming outdoors, and avoid spending too much time in the sun.
Showers and baths after LASIK eye surgery
You can shower and/or bathe in the first week. Be careful that no water or soap goes directly into the eyes, and do not submerge your head underneath water.
Swimming Pools and LASIK
A week after LASIK, you can now swim in a chlorinated pool! Relax and enjoy the pool, or maybe even cannonball into the water!
Oceans, Lakes, and Rivers after LASIK
You can sit in a hot tub and swim in natural bodies of water, such as lakes, rivers, and oceans. You can also resume low-impact water sports such as kayaking and snorkeling.
Tubing after LASIK
A Texas favorite, tubing! You can engage in all water sports, including high-impact activities such as water polo, but wear protective goggles when needed.
Swimming after LASIK
You can enjoy the water after LASIK, but you may have to miss a week or two at the beach. However, a lifetime of better vision is worth it. Just be careful not to rub your eyes or get them wet for the first 7 days after surgery. Wear some sick shades or sunglasses. It doesn't hurt to be fashionable while protecting your new eyesight. And, of course, always consult with your doctor if you have any questions or concerns. Happy swimming, showering, kayaking, diving, or anything you would like to do!
Be sure to talk to one of our doctors about not only the benefits of LASIK, but also any risks of LASIK that may pertain to your individual needs and circumstances.