Actor Ken Jeong Says Long Days on Set Have Given Him Dry Eye Disease
If you've ever stared at a computer Zoom meeting for hours on end (we're with you, it could have been an email), binged Gossip Girl overnight, or played Super Smash Bros. all weekend… then your eyes might know what it's like to feel as if they've been to the Saharan Desert and back. Or you may have just woken up in the trunk of a car, out in the Nevada desert (no judgements). Which is exactly what happened to Ken Jeong (you've seen The Hangover, right?).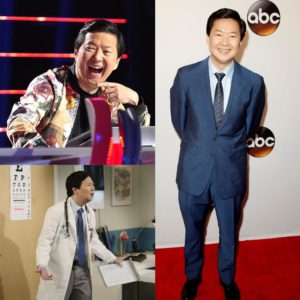 Trivia time: Did you know the star of the awesome movies/series like The Hangover and Community, also deals with Dry Eye Disease? Hold the phone, have we mentioned, he's ALSO a doctor? Jeong is up all hours of the day and night filming, entertaining, and being an all-around #boss. However, his eyes almost never get a break. No time for blinking!
Imagine this. What if you had to wear latex gloves all day long, all NIGHT long. How would your hands feel? Now imagine how your eyes feel all day long behind contacts. No bueno.
Many folks have been there, it's not a fun feeling. You're up all day and night wearing your contacts, then without any warning — BOOM. Your eyes are itchy, they burn, they're tired and when we say it gets rough, we mean life. gets. rough. Which makes it no surprise that nearly 5 million contact lens wearers suffer from a condition called CLI (Contact Lens Intolerance).
In a recent interview with People Magazine, Jeong, 51, goes into what he calls "doctor mode" and warns that many others may have the condition without realizing it. He says people who regularly feel "achiness, grittiness in the eyes and just itchy burn," may have dry eye disease.
"Throughout the pandemic, we've all had increased screen time, especially on Zoom, and that can definitely just dry out the eyes naturally and exacerbate symptoms," he says. "Basically, you have a decreased blinking time. So you blink less when you're facing the screen."
Jeong adds that some people may mistake dry eye for allergies, but if symptoms are consistent, it could be from chronic inflammation in the eyes. "It's happening in both eyes," he says. "It's not just localized. It's more bilateral."
"At the end of the day, it does take talking to an eye doctor to help determine if you have dry eye disease or not," he says.
For those that struggle with CLI like Jeong, there are many options. Options that are currently widely available and don't take you back to 'GO' without collecting $200 dollars. Meaning, you do not have to start back at step one. Many of our patients find comfort and relief from CLI by laser vision correction and advanced procedures like SMILE.
To see if you are a candidate for Laser Eye Surgery, take our Self-Test.To learn more about the SMILE procedure, contact us here for a consultation or give us a call at (210) 585-2020.
Source: People Magazine
Be sure to talk to one of our doctors about not only the benefits of LASIK, but also any risks of LASIK that may pertain to your individual needs and circumstances.