Cataracts Threaten an Artists Vision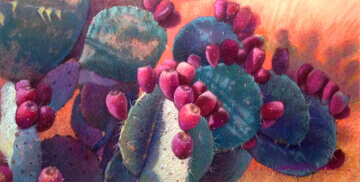 We recently had the pleasure of meeting and performing laser cataract surgery for Ms. Jeannette Cuevas. She is a wonderful artist who eventually settled on the idea of dull and blurry colors within her art. She hadn't seen the quality of her own paintings and drawings in quite some time. In fact, after her procedure she had no idea that she had been living with such profound limits. Take a quick look at what she told us after her procedure:
"As you can see, I am an artist. Prior to my cataract surgery it became increasingly difficult to really see the colors I was using in my paintings clearly. They looked so dull to me. It was extremely frustrating. After I had my first cataract surgery done on myleft eye, I noticed how bright and clean and clear everything looked. The colors were incredibly vivid as opposed to my right eye where my vision was more yellowed. I assumed my left eye was seeing super bright as a result of the surgery and would eventually settle in to seeing more like the other eye – more yellowed, which I had not had surgery on yet. When I asked the assistant about this she said oh no, the brightness you see is real. That is the way you will see from now on. That totally took me by surprise. I wasn't expecting to hear that at all. In fact, it overwhelmed me and I got so choked up. I couldn't imagine being able to see the world with this amount of brightness and clarity. What a gift! The best gift I could ever have asked for. I am so thankful to Parkhurst NuVision for their expertise and skill in what they do and for making this experience so incredibly pleasant and comfortable. I highly recommend them. They were absolutely wonderful." 
If you feel like you are living with the same dull and blurry vision as Jeannette, contact us here for your appointment!