Why Doesn't Parkhurst NuVision Sell Glasses and Contacts?
At Parkhurst NuVision, what we don't offer is just as important as what we do offer.
One aspect of Parkhurst NuVision that often surprises our patients is when they find out we don't offer glasses and contacts.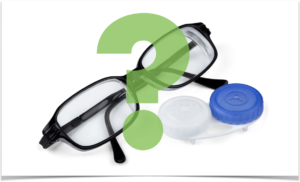 They look around our office and see all the advanced diagnostic equipment, the latest LASIK lasers, and demonstrations of vision correction procedures of all types. But notably absent are walls of designer frames and promotional displays for contact lenses.
To be clear, most optometrists and ophthalmologists do sell glasses and contacts to their patients. So what happened? Did we just forget to build those big display cases when we created our beautiful new office space? Did we hide them behind a secret door?
It's not that they're hidden. We literally don't have glasses or contacts for sale in our office. We don't order them for patients. We don't even have a mechanism to get glasses or contacts if someone wanted us to.
This isn't an oversight on our part. Rather it's a strategic decision that is in the best interest of our patients, our team and the optometric physicians we work with all across the country.
Not Selling Glasses and Contacts Benefits Our Patients
Our goal with Parkhurst NuVision has always been to offer the most advanced, proven vision correction procedures for our patients.
To be truly excellent at one thing, that means not doing certain other things. Namely, we don't offer glasses and contacts.
All day, every day, we're focused on helping our patients discover which vision correction procedures best fit their unique eyes. This is the world we live in.
Every member of our team is 100% focused on how we can help our patients enjoy life with crisp, natural vision. This gives our patients a peace of mind when they come to see us, knowing we have a clear vision and area of expertise where we concentrate our efforts.
Not Offering Glasses and Contacts Also Benefits Our Team
Your experience as a patient is a direct result of the culture we have built at Parkhurst NuVision.
Our culture is rooted in changing lives through modern vision correction surgery.
Again, this comes back to focus – our first impressions team, our phone team, our counselors, our technicians, our doctors are all focused around modern vision correction.
Since we don't spend time fitting contacts or measuring for glasses, our team has more time to watch procedures, meet with surgery patients and take continuing education courses on the surgical advances we're introducing to the San Antonio market.
Think about it: Your favorite barbecue joint (Smoke Shack vs Augie's is an argument for another day) doesn't offer sushi, gyros and tostadas. In much the same way, we don't offer everything to everyone, nor do we want to try.
If someone calls us in search of glasses and contacts, we refer them to an optometric physician in their local area who can help them out. But if you are searching for advanced vision correction, Parkhurst NuVision is your place. We literally offer the most different types of vision correction technologies in the state so we can help patients with astigmatism, those with bad reading vision, patients who want to see clearly after cataract surgery, and more.
Not Offering Glasses and Contacts Serves Our Optometric Physicians
One of the Parkhurst NuVision pillars is called Collaborative Care. What this means is that our team of doctors works hand-in-hand with optometric physicians around the country to serve their patients in need of vision correction surgery.
For example, we recently had a patient travel from West Virginia for a lens replacement surgery (similar to a cataract procedure).
We performed his surgery on a short trip to San Antonio, and his optometrist in West Virginia, just a mile down the road from his house, completes the pre-operative and post-operative appointments.
You don't have to live 5 states away to enjoy the convenience and benefits of collaborative care. Whether you're coming from Eagle Pass, Uvalde, Kerrville or even downtown San Antonio, you can take advantage of the hundreds of collaborative care relationships we've built with optometric physicians all over the U.S. (including many right here in Bexar County and surrounding areas).
And what makes this process work so well? When optometrists do what they do best – long-term primary care for patients – and we ophthalmologists do what we do best – short-term surgical care – patients can be confident that they have the right experts to address their specific needs every step of the way.
Without our awesome optometric physicians, we could not be effective at helping the patients who would benefit from surgical procedures. Optometrists help us identify those patients and play a vital role in their long-term care.
Collaborative Care is a true partnership among peers in eye care, which is why this approach has been built into the DNA of Parkhurst NuVision since day one.
By not selling glasses and contacts, we are able to provide a better experience for our patients, our team and the optometric physicians with whom we partner. 
If you call us in need of glasses and contacts, we're happy to refer you to excellent optometrist in your area.
And if you're considering a vision correction procedure, you can have peace of mind knowing this is the sole focus of Parkhurst NuVision.
Now when you come in for your vision correction consultation, you will understand exactly why you won't see displays of prescription glasses or advertisements for daily contact lenses. Because that's not our focus.
Our focus is permanent vision correction solutions to help you enjoy every waking moment of your life.
Click here to schedule now, or call (210) 585-2020.
Be sure to talk to one of our doctors about not only the benefits of vision correction, but also any risks of vision correction that may pertain to your individual needs and circumstances.