2022 Patient of the Year Contest!
It's BAAAAACK!

The 2022 Patient of the Year contest!
Entering the contest takes all of 5 minutes, and we'll select 5 winners. The Grand Prize Winner will "Win LASIK Reimbursement" (which means we'll refund the cost of your treatment). Whaaattttt??? Yes, you read that correct – REFUND THE COST OF YOUR TREATMENT.
Not bad for 5 minutes worth of effort!
Here's how it works
You know how after vision correction, you can do 127ish things that were hard or even impossible when you wore glasses or contacts? We want you to share a video telling us about 3 of those things that mean the most to you.
Tell Your Story

This can be done on Facebook, Instagram, Google, YELP, Tik Tok, and YouTube!

Refer a Friend to Get Their NuVision, too!
BONUS ENTRY  (2 extra entries)
Show us doing the thing you love with your NuVision – Shoot a short  (less than 2-minute) video at home, on the river, golf course, at the playground with the kids, wherever! Have fun and be creative and post to your social media channels publicly!
A few things to remember:
Post Publicly – Make sure your post is public so we can see it! (This is how we track your entry)
Tag Us – Tag Parkhurst NuVision in your post.
Fabulous Prizes – We will select 5 winners, who will receive these awesome prizes:
Grand Prize: Reimbursement for your Treatment (meaning we will refund your treatment cost, AND you keep the great vision) and also named Parkhurst NuVision Patient of the Year!
1st Runner-Up: Ultra-HD Big Screen TV 
2nd Runner-Up: Chromebook
3rd Runner-Up: Season Passes to Fiesta Texas to enjoy your NuVision
4th Runner-Up: $50 Alamo Drafthouse Gift Card
If you refer a friend and they enter the POTY contest (By referring a friend or sharing their NuVision story) and win the grand prize… you win too!
Good luck, and we can't wait to see your video!
Questions? Comments? Ideas? Email us at nuvisionpoty@gmail.com
Last Year's Winner for our Patient of the Year Contest, Joe Martinez!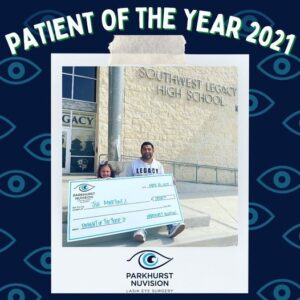 Be sure to talk to one of our doctors about not only the benefits of LASIK, but also any risks of LASIK that may pertain to your individual needs and circumstances.